Listening to: Rob Thomas - Ever the same
Feeling: The Sunday Blues


After a long, long, long time wanting to go see the fireflies, we finally got down to it. Having a wonderful excuse to do it, it's even better. So we planned for a seafood dinner in conjunction with Sarah N and Momo's birthday.
We got there about 8pm and headed right for the kelip-kelip (fireflies) viewing area. Paid RM40 per boat (each fits 4 pax), donned the smelly life jackets and jumped onto the sampans. (Ok, well not jumped... it's a small sampan and it was pretty scary because the water was so close to the edge of the sampans)
It was a totally magical experience as we glided through the dark and silent river. The river was swollen due to rain and it was hard work for our guide to paddle upstream. Me, G, Gem and Nini were in the same sampan. For a moment, we went silent. Then G Nini pointed up to the sky and asked...(sorry G)
Is that a firefly?
We looked up and laughed. That small blinking light was actually from a plane. I was about to say something when something blinked across the river. The whole tree was blinking. And there it was, the fireflies. They were around us. I think the guide was very amused as we ohh-ed and ahh-ed, gasping and admiring the pretty sight. The whole sampan ride lasted about 20 minutes but after five minutes I thought they kinda look like Christmas trees. I wish we can take some pictures of them but it just won't turn out.
Picture courtesy of Momo and yeah, that's a firefly.
I would definitely recommend you guys to check it out yourself. Words won't do it justice.
Things I've learnt during the RM10 sampan ride
1. The male fireflies emits brighter lights
2. It's better to view fireflies when it's moonless cause its dark. Then you can prolly see more fireflies...
3. Fireflies live on the mangrove trees so you'll spot them near fresh water lakes or rivers.
4. They live up to three months
5. Fireflies actually gives off GREEN lights; not yellow like I thought it would
6. They look for trees with younger leaves; picky, picky...
Yeah, so how's that for education. I highly recommend people who are dating (ahem-ahem) to rent a sampan for a romantic experience. The sampan driver will look away if you guys do, uh... anything naughty. Heheh... Just one thing, the life jackets smells so be forewarned.
Group shot minus Sissy. (Art Direction: Sissy)
So off we went to makan. Got there at about 9ish and we ordered nearly everything on the menu. Hungry and smelling like life jackets, we still had the mood to be cam hoes....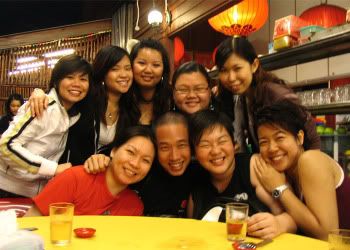 Looking nutty minus Kst (Photo by Kst)
Have to look nice and pro laaaa... (Camera on auto mode)
Sarah N and Momo had their birthday cakes and we were just too stuffed to move anymore. I swear the car was heavier on the way back...
So yeah, it was a good trip all in all. Plus I wanted to see the fireflies for the longest time. Am so glad that we managed to catch them this time.
Last but not least... A good picture that I JUST had to post up...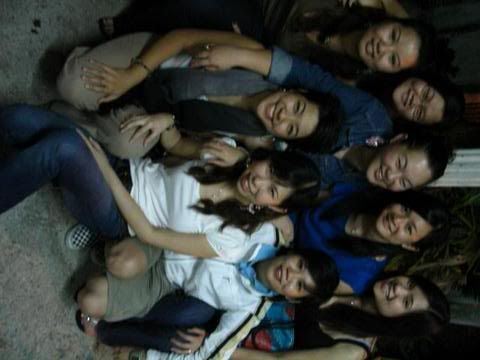 Taken during Gem's Xmas party.