Listening to: I'm dreaming of a white Christmas
Feeling: Awfully tired

Fuh... After a few days of stressing and staying back late for work, I am finally down to 2 more days before my shoot. Feeling much excited, tired, stressed and obsessed about the whole thing. My first unassisted model shoot. =.= All fingers crossed, uncrossed and crossed again for this one to turn out at least nice~

So its 3.46 in the morning and I have an 11am appointment tomorrow. Yet I can't sleep. Have to post up something before my weary head hits the pillow. So here goes...

You know Christmas is a hop, skip and turn away when...
(I know it's abit late, but I intended to do this before just that I was too lazy to load pictures up... :p )

*... Starfucks starts their Xmas drinks season. This year's Creme Brulee and Peppermint Mocha (Ithinkthat'sright)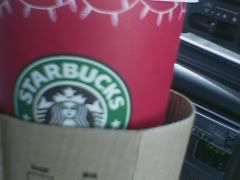 Absolutely love the red cups. Feels alot more like Christmas with one of those in hand and Christmas songs playing in the background

*... shopping malls starts playing Christmas carols. In fact, they start playing them in November. It scares me. And come beginning of December, they decorate their malls. Like so...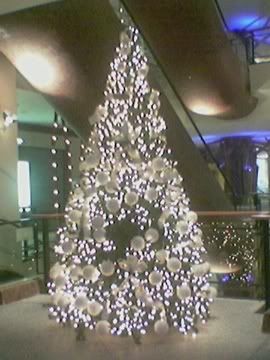 Starhill. The prettiest one so far. They even have pretty white snowflakes suspended from the ceiling ALL OVER! My camera can't take the details and the pictures of the snowflakes came out crap. So here's the pretty tree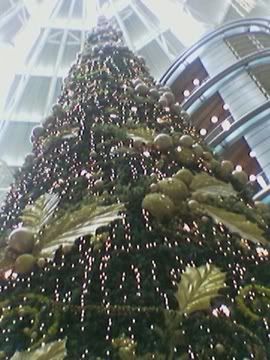 KLCC. As usual, they went all out and tried to get the biggest tree award from the Malaysian Book of Records. Or something..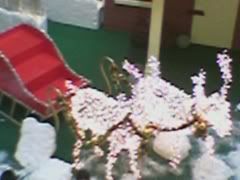 This kinda bordered along tacky but in the end, I think it was pretty alright. In fact, looking at it again, I think it looks kinda cute.

*... IKEA hosts their spectacular year-end Christmas Media party. Had too much Schnapps. Nasty things they are. Decided that crayfishes were not exactly my thing. But my colleagues enjoyed it more than I did. Meatballs are still the top of my favorite Swedish food list.

The setting and atmosphere of the whole party was just so nice. Minus the heat, we could have been in Sweden. We even had mulled wine (which tasted kinda nasty, I rather have Schnapps, the Swedish vodka. Potent stuff!!)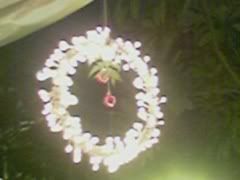 Nice Decor!!!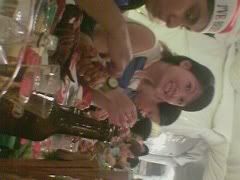 Sally looking extremely pleased with her crayfish.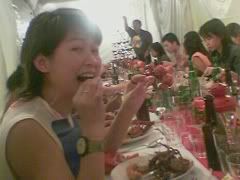 Yum!
Jayen's crayfish says hie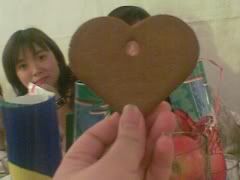 Love these cute heart shaped gingerbread!! Nice.. almost too pretty to eat!


Christmas is only like about a week from now and I'm so looking forward to it because

*most of my work would be done then. February should be closed and March will be on the way. Hurrah!

*Memoirs of a Geisha

*Marina would be getting her Americanized ass back here to Malaysia and we shall Malaysianize her again. Let's hope she brings me a nice Christmas gift. (Rina! Remember my hot hunk!)

*Pay day!

*Maybe then I could use some of my remaining leave days that couldn't be transfered to next year.

*Chinese New Year coming soon? Maybe I think too far ahead!

*Valentine's Day? Bah HUMBUG!

Things I really wanna do before the year ends.
* Watch Perhaps Love
* Watch Narnia again
* Have Creme Brulee again before the Christmas season ends

Need to blog about
* Frasier's
* Central Perk is closing down soon T.T
* How I love and loath Narnia
* Interview with Stephane Pompougnac
* My eventful collections day at KLCC

That's it for now I guess. About Frasier's and the rest when I have more time!

Everyone take care and enjoy your Christmas!! Drink and Drive safely by cabbing it or getting someone sober to drive you home. I need your readership! :p Till then... Ho Ho Ho!!!

*All pictures taken with Nokia 6260. Pardon the quality. I'm pushing the 0.3 megapixel cam ok?
**Good luck to Kst and Dan at the comic con tomorrow. May you sell loads of your work and make enough money to spend us all girls Ribena Vodka. Cheers!!!!