Listening to: Marion Raven - Crawl
Feeling: Tuesday, oh, Tuesdays.. Hurry up and get it over with

We were at Friendster again yesterday and it was really funny cause we ordered a jug of stout and Sissy got fecking drunk~ *giggles hysterically*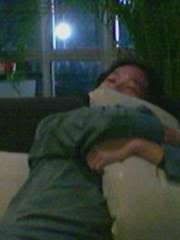 The aftermath of 2 short glasses of stout... Can you imagine? Stout are the stuff that old aunties drink with their kua chi and roasted peanut gossip sessions. OMFG, Sissy...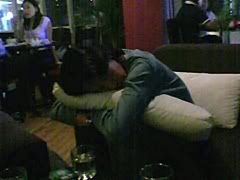 He died... for a few minutes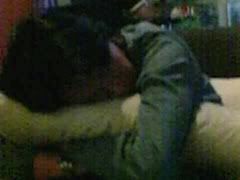 A closeup of dead and out Sissy

He left after half an hour, and within 15 mins, sent me and Nini an SMS that read, 'Don't worry, I am very happy. Will get home safe soon'. Talk about hilarious. As soon as I finished reading out that SMS, the whole table burst out laughing. We agreed that we shouldn't ever let him have too much alcohol. *pif.
We discovered that Friendster is by far the cheapest place to have beer. Even cheaper than Decanter Too. Only fecking RM24. Sheeshh.. It's just a difference of RM1 but then, it's nearer to my house (and they supply Uno cards and Uno Stacko!!!), so I guess Friendster win!!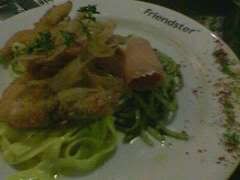 The food there's not bad too.. Ohh.. I am advertising for them.. WTF, I hope they give me free beer for this!


Going for a shoot in the studio... Another post later in the day! Meanwhile, check out me and my kawaii cousin! She is so freaking vain. A camera ho in the making!