Listening to: Kelly Clarkson - Since you've been gone
Feeling: Haze got into my eyes

Ever since the veil of haze covered our beautiful country of Malaysia, I realized that most people blogged about the effects of the haze. How it affected the tourism industry, their health and what nots. I am more worried about how it would affect my shoot that is scheduled on the 23rd. It is an outdoor shoot and I am worried that I will be getting the whole Genting Highlands effect.

Another thing is that I realized, since the haze, my boogers turned black. I mean, I really don't mean to gross you guys out but since the haze consists mainly of dirt and dust particles (correct me if I'm wrong) we are actually inhaling dust. (hence the health concern) So what filters your lungs from these dust? Your nose and its hairy soldiers. I swear to God, that was how my science teacher once explained. Or was it my dad? I can't remember but I sure did remember it was explained as such. So that's why mum told me that nose hair is extremely important. Hairy soldiers... EKKKK

Because the dust particles are stuck in your nose, it is congealed and it turns into, taadahh boogers. So because of the amount of dust, it turns black. Yup, mine's black. Maybe it is a good sign that my hairy soldiers is doing their job turning those dust into black boogers. Yes, its a nasty job, but something's got to do it.
So the something (what's it called again?) index is like about 200 but I have just heard my colleague while contributing to the haze smoking saying that our government wouldn't be annoucing darurat until the count reaches 500. I can't imagine kids studying in open aired class rooms. Really...
A word of advice, just remember to drink at least 8 glasses of clear, plain water and smoke less.. No open burning.. Fat chance I guess because the Hungry Ghost Festival has just started and Chinese people everywhere are burning paper effigies all round Malaysia. Maybe with all that haze the ghosts might not be able to find their way here.. Hehe.. Maybe. Who knows?
Meanwhile, me will be cleaning my nose...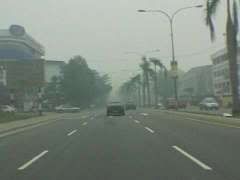 Hazey dayz aheadz