Listening to: Colleagues chattering in at the background
Feeling: Slightly sluggish

This is gonna be a week's worth of update, so be prepared for long pictures download.

It had been a pretty busy week, with my shoots and deadlines all squashed into the same week, so hence the lack of updates. So it all started on Thursday.


Thursday:
Went to the Guess's A/W05 Accessories launch at Crowne Plaza. Had a jolly good time watching the models (got my fave, Amber Chia), playing with the snake (pix below) and basically just smoozing around. I love my job!


Me trying to eat snake

Friday:
Had a full day of collections and 3 locations to collect from. Blast it. Why did I even choose KLCC to be my final stop? My stylist, Drama, reminded me of that. Had loads of bags in both my hands. Brands that I couldn't even afford their cheapest coin purses. Sheesh. Big pressure there, had to make sure that I don't drop any.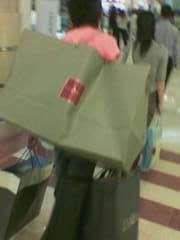 Drama Queen hard at work

Caught in a massive jam that lasted me some 2 hours. Did I mention that I had to get to a makeup artist's house for her birthday party by 8 and I was still lost by 8.30. And the house was in some god forsaken area. Thank goodness I managed to get there in one piece. Abit frazzled but made it.
On the upside, I caught some really pretty pictures of the sun in KL...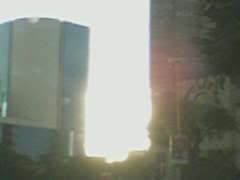 Too bad my camera's not 1.3. Its just a measly .3 so have to be contented with that!
Saturday:
Bummed around at home cause my cash is at an all time low
Sunday:
Further bummed around at home cause my cash flow is drier than a puddle on a hot sun shiny day.
Monday:
Shoot got bloody cancelled. Frantically tried calling other clients to arrange some clothes collection.
Tuesday:
Shoot like a bloody maniac till 1am. Managed to piss models off by letting them go later than promised. But oh well... too bad for them. Results were good. Very, very pleased.
Wednesday:
Work, work, work. Deadline on Friday.
Thursday:
Work, work, work. Deadline on Friday.
Friday:
Deadline and also the MH party. Last minute changes made me pretty pissed off cause that only means I have to rewrite and rearrange some of the stuff that I had done. Rushed off at 4 to get ready for the party. Got there late because of bloody KL jam again. Took a wrong turn and got there even later. Crap
Party was pretty crappy as well. Stupid games like 'How many Powerbars can you eat at one go?' makes me wanna go 'huh'? There was even a magician. A bigger 'huh'? Readers couldn't get in because we had reached the maximum number of people in the place. A big bummer actually, cause we thought it would be so much more better than this. The magician was the last straw. I wanted to die.
Anyhows, after the party was when the REAL party started.



R-L: Me, Lingzhi, Sarah N and Nini



R-L: Sissy and Me



R-L: Sarah N and Me

Sarah N got really sloshed. Puked all over the outside of my car. It is funny how we had gone through this so many times that at her slightest gesture, I wound down the window and undid her seat belt so that she could stick her head out to spew. Thank goodness she knows well enough to do it outside!! :p
Danced onstage for all to see. Didn't care if people were laughing at us. Just wanted to enjoy ourselves. Had so much fun my legs cramped the moment I stepped down the stage. Not a good thing.
Saturday:
Woke up really late and went off to One Utama to think of ways to spend my just received pay. Bought 'Confessions of a Shopaholic' *how appropriate* and 2 comic books. One by Ben *love his illustrations* and Ranma1/2. Went to Starfucks, I mean, Starbucks to enjoy my new purchase and I started seeing myself as the heroin. I mean, her credit card bill comes and she dumps it into a construction site so that she don't need to read it. She writes sob story letters to the bank manager to avoid meeting with him. It's hilarious and I so see myself. Best thing is, she's also a writer, a finance magazine writer. How funny.
She buys things she can't afford (check), overspends on things she don't need (check), late on paying her bills (check) and lies to get herself out of tight situations (check). OMG, I am a drama shopoholic.
Left One Utama after reading a quarter of the book and got my ass home. Lingzhi's birthday so we went to Jushi for dinner, this really cool japanese fusion juice bar thingy restaurant in Plaza Damas near Hartamas. Had a great time. Don't take pictures though cause Lingzhi bought her digital camera so we'll just have to wait till she sends it to us.
Went to this really nice place called De'Lounge which is really a concept store actually. Love love love the place. Really cosy.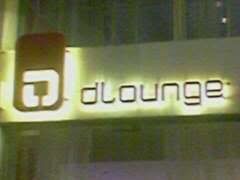 dLounge



The insides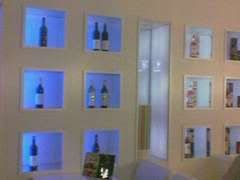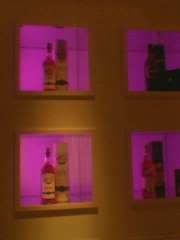 Disgustingly beautiful seats! So nice! It feels like a carousel



Mirror, mirror on the wall...
I could go on and on about this place. The lady managing it is so nice, we forgave her for the slow service. She was the only one working there though, so forgiven. And I have not even started on the toilet. It's fully mirrored. I love love love the toilet. I should have taken pictures... More to come from Lingzhi's camera.



Me with the King
Went off from there to Bar Savannh with Nini, Ndrew, Lingzhi and Sarah N and proceeded to down Vodkas with cranberry. A friend of Ndrew's brother's was apparently celebrating his 21st birthday there. I didn't miss the chance to bully him into downing 3 shots with me. I am so evil. He puked after that. I felt slightly bad but after a while I realized that he had a few flamers downstairs with his friends and Vodka Cranberry was just the tip of the iceberg. Didn't feel too bad after that at all. Evil!
Proceeded to drive home at 4am (Bar Savannh had to throw us to. Closing time!!) feeling progressively tipsy until I had to tell Sarah N, 'Please tell me if I'm driving too fast' Drinking is bad for you. I really need to stress here again that drink and driving is illegal and bad. Do not do it. Kept crossing my fingers that I don't meet a roadblock and thank god we didn't meet any.
Went off after that for mamak and when I got home, I was spewing as well. Bad Vodka, BAD!!
Sunday:
Slept in again, and me and Sarah N went to Ikano to redeem some contact lenses that we got for free from some media launch and I disgustingly thought I should spend somemore on myself because I've got my pay and got a little bonus so I bought myself the first thing I thought I should need. A pair of sunnies. Very pleased with it because it was actually RM620 but it was on 50% off.



New sunnies!!
Felt slightly guilty after that because I could have saved that sum for a laptop that is on my wishlist at the moment. Oh gah! It's the first time I bought something so expensive. Well, a piece of accessory or garment anyway. So yeah.. Bleh!
Met up with Arihito, Kst, Gigi and Sissy after that for dinner and we had Okonomiyaki! *sings the Okonomiyaki song*
Met up with Cher at Friendster's after that. She looks different and acted differently too. She's getting engaged. Really great to know and like Sarah N would say, she is the first friend amongst our college gang to get married if everything goes well. All the best to her!!! xoxox
Monday:
Boring day! Work work work. Planning our Penang trip. More on that later...
-End of Updates-