Listening to: M-Flo - Get on
Feeling: Sunday-ish.. But the haze is back

On a totally different note.. I want to brag about acquiring a whole new set of perfume vials from The Body Shop. *muakzmuakzmuakz* You can mix and match these scents to come up with unique scents for you and only you. YUM~


Isn't the case pretty?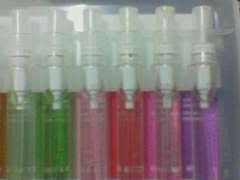 A closeup!!!

Watched Charlie and the Chocolate Factory and thought it was pretty alright. Johnny Depp was OK. Thought that he was abit too plasticky.. Maybe had thought that he would pull another Captain Jack Sparrow again. Sigh.. Was abit disappointed with that. Watching the whole show made me feel like eating loads and loads of Almond Snickers or Almond Cadburys.

Resisted temptation. For now...
Another step closer to my goal.
Hahahahhaha...