Listening to: Jacky Cheung
Feeling: Sleepy
Loads of pictures on this update as well... On Merdeka's Eve, we had decided to avoid the jammed up areas so we sensibly chose to go to The Curve. I had went there for dinner with mum and dad and aunty Wan to celebrate my parents anniversary. Went to Ah Tuan ee Nyonya food. It is crap. I'll tell you again and again.. It is crap crap crap... I will never ever eat there ever again.
After that met up with Gem, Ann and Kat for drinks at this Vietnamese restaurant, I think it is called Phat Hao... or something.. Had some really heavenly jasmine tea there. Definately should go there again for their jasmine tea.
Moved on from there to The Indigo cafe for beer. Uweks... Had one bottoms up and that was it.. felt kinda sick after that. I think my alcohol limit for the week had been breached and I cannot stomach any more alcohol after this... Met up with Gigi, Arihito, Sissy, Nini and Sarah N there. But since the place closes at 12, we decided to move on to Decanter in Hartamas. We made a move at about 11.15pm so that we can reach the place in time. Me, Sarah N and Arihito went over to pick Kst up. Hartamas was so blardee jammed up. After about 25 minutes of agonizing wait, we realized that we are gonna spend our Merdeka countdown in the car. Oh well...
About 5 minutes away from Decanter, we've got a call from Gigi saying that Decanter is filled to the brim. So much for Decanter, so made a quick turnaround and headed towards Friendster. And when we got there it was also filled to the brim. But thank goodness for extra tables. Seems that they had cleared off some of the tables to make way for a dance floor. People at Friendsters are just so good at doing PR. I think.. So we stayed on and even boogied abit to the not too great music.
Attendance:
1. Me
2.Gem
3. Sarah N
4. Nini
5. Ndrew
6. Ndrew's brother
7. Gigi
8. Ann
9. Kat
10. Arihito
11. Kst
12. King
It was a jolly party with loads of beer and loud (though not too good) music (which kept skipping). One of the baristas actually went on the floor with some cool breakdancing moves. I cheered will my throat gave out.



Me and my cam-ho cousin, Carmen!! She started off young. Oh man~ Before leaving the house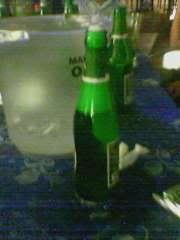 At Friendster's; where the beer is cheap and fun. Comes with a free breakdance performance
Kat lighting up
Half of Sarah N, Nini and me
Me boys
Me and my FB
Cam ho Ndrew
Me and the King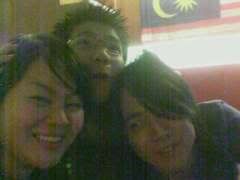 What the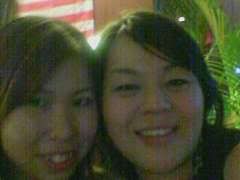 Me and Sarah N

Sarah N and Kst



On Merdeka Day, Gem woke me up at 4.45pm, *yes, I'm a pig* and told me that she will be spending me dinner. Yay! Who can turn down dinner? So we went to the Curve AGAIN, stopped for a latte at Starbucks first, *hey, it's payday* and went on to Sakae Restaurant for some japanese food.

Really like the place because of their cool interactive menus. Each booth has their own screen and you can scroll around looking for things you want to order. In the end, we ordered more than we actually wanted to eat, all for the fun of clicking on the menu. Yay!!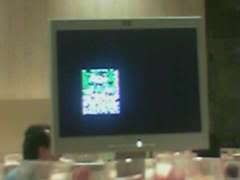 Cool menu
Gem's teppanyaki set

My tempura udon set


Prices are pretty decent there, I recommend that place. Downside is that the place is pretty small and understaffed, so be there early and get ready to wait abit for your ordered food to arrive. On the upside, you can get sushi on the revolving serving tray and salmon sushi only costs RM1.90.

And on a different note, I thinks I should consider getting a better camera than my camera phone. I am ashamed at my crappy grainy pictures my phone churns out. But with my recent purchase of my uber sunnies and maintance of my car (which costs me more than the sunnies) I think the camera would have to wait in line. First up, my laptop! *sweatdrops* I need to sell myself to get stuffs like that...

Going to Penang later tonight (1 am actually) for a one day trip, so will only be back on KL by Sunday. More updates and pictures then!