Listening to:Flo - Album - Beat Space Nine *Thanks Kst!!*
Feeling: Happy, oh so Happy

Just got back from Penang the day before at about 9pm. Drove to and fro Penang and realized that ciggies and coffee is indeed my bestfriend.

Started out at about 2am, feeling abit tired already. Was supposed to go back and rest abit before starting out but I was so excited that I couldn't sleep. Oh man... After driving like a zombie on crack, we finally reached Penang at about 6am.


Coming out from the toilet. And you wonder why they wanna take piccies. Photo by Kst

Crazy people in Penang

Consumed: Two cans of Nescafe Gold and 5 sticks of Malboro Menthol Lights. Bless!

Got there and went for Dim Sum for starters. Kst hearts dim sum. I dunno why but I LOVE mentioning that. I am LOL-ing now at my desk.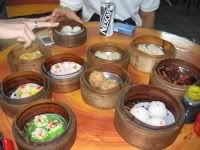 Food!!!

Kst singing his love for Dimsum

Went to Batu Feringinginginging *giggles at Kst's email*



Ndrew aka Stitch being very naughty!

So from there we went back to the hotel and managed to sneak up into Gigi and Gem's room, they were there earlier for some business meeting. While waiting for them, some of us had a little nap...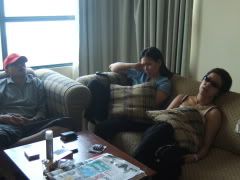 Snore snore!
Woke up after awhile for some makan at Swatow Lane. And did we eat. Arihito finished almost 4 bowls of food. Laksa, wanton mee, kuey teow soup and he had some more Mochi and Cucur Udang as well. We just stared and gaped.
After going back to the hotel, we finally managed to check into our own room. We were just staying right in front of Gigi and Gem. We're neighbours!

Cucur Udang. Yum YumYUMMMMM~
Photography by Kst
Stuffed ourselves so full that we had difficulty getting back into the car. Met up with Daniel, Kst and Arihito's old classmate who is now back in Penang for good. Long time no see still so chili padi. Food was good and cheap. Did I mention food was cheap? My god, it's so cheap, the portion is just right if you want to try a little of everything. Swatow Lane rocks and kicks ass! I love love heart heart the cucur udang and the mochi.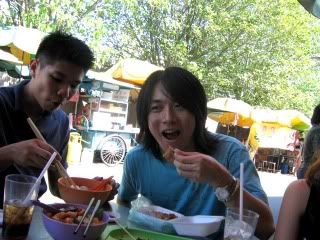 We didn't manage to go to the temples and Bukit Bendera. We just eat eat and ate! Went all crazy. Makaned a few times again. No wonder the car was heavier on the journey back. Ekk..
I guess when you go to Penang, all you do is...
Eat
Photography by Kst
... eat
Photography by Kst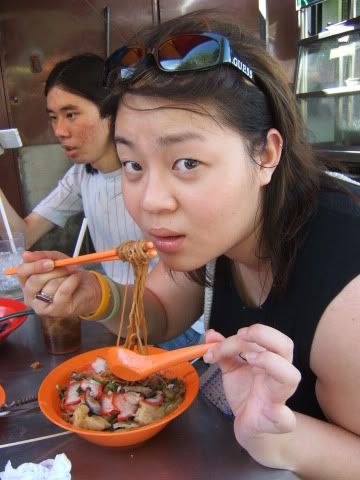 ... eat
Photography by Nini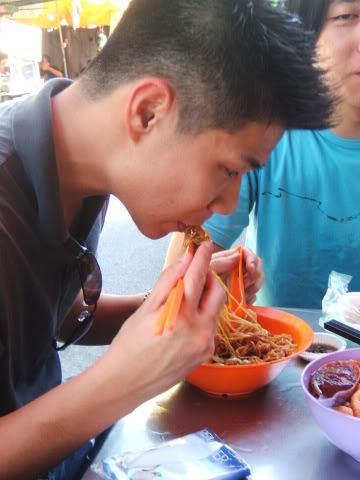 ...eat
Photography by me~
...EATTT
Photography by me~
And then eat somemore...
Photography by Kst